•
Vanessa Hudgens
, looking every inch the rock star as she headed to a recording studio in West Hollywood. Having recently
signed on
for
High School Musical 3,
the teen queen was all business Wednesday afternoon, flaunting a pair of thigh-high black stiletto boots on her solo stroll to work.
•
Leonardo DiCaprio
, treating a dozen of his male pals to a raucous dinner at West Hollywood burger joint Hamburger Hamlet. Trading gifts around the table, the group got so into the festive cheer that servers had to move two elderly couples nearby to quieter seating. DiCaprio's gift? Halfway through the meal he quietly slipped the waiter his credit card to cover the bill.
• Clearly getting on Santa's Nice list this year:
Eva Mendes,
unveiling her new PETA ad on Robertson Boulevard. Dressed in a short red dress, navy blue cap and black stiletto boots, Mendes posed for photos as a gathering group ogled the new risqué campaign against fur use.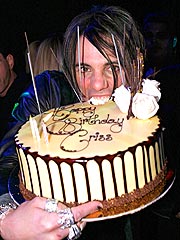 • It's his birthday and he'll eat if he wants to!
Criss Angel
took a bite out of the nightlife as he celebrated the big 4-0. The magician rang in the milestone at Las Vegas club LAX where he was presented with a decadent cake he quickly sank his teeth into.
•
Vince Vaughn
, playing the good samaritan at a recent holiday party. "When he saw someone in a wheelchair trying to go up the stairs he ran across the party to help carry him," says an onlooker. The Christmas spirit has rubbed off on the actor in other ways: "He's looking good these days. In fact, I'd say he was hot."
• By REAGAN ALEXANDER AND EUNICE OH
Thursday's Caught in the Act >