The latest
CosmoGIRL
magazine is hitting stands with
newly engaged
mom-to-be
Jessica Alba
on the cover. Though she steers clear of any pregnancy details, the 26-year-old actress does hand out some motherly advice to young girls who are dating:
"Most guys, especially when they're younger, really are only after one thing," she says. "To all the girls out there, I don't want to say, 'Don't give your heart to somebody like that,' But wait at least a good year. You can be in a relationship and do some things, have fun, get to know each other – but don't give them everything.
"That was something I did at a young age," she adds, "fell in love and gave him my everything, and I was left with nothing. It took me a long time to put myself back together, and I wish someone would have told me back them to hang on to some of myself."
The mag also scores some confessions from Fall Out Boy's Pete Wentz (who's still going strong with
Ashlee Simpson
) and
Gossip Girl
's Chace Crawford (who's currently spending quality time with
Carrie Underwood
).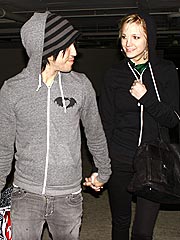 Charlie Bonilla / BuzzFoto
Wentz's Favorite Look
For the record, Wentz thinks "finals week" looks sexiest on a woman. "The hottest thing to me is what I call 'finals week' style. It's what girls look like when they're studying or getting coffee in the morning, like wearing hoodies and sneakers and their hair in a messy ponytail," he says. "Girls don't need to cake on makeup and have a stylist to be hot. Sexiness comes from confidence."
And his only problem is when Ashlee is wearing heels. "When she's in heels she's got a half inch to an inch on me. It's slightly emasculating. But the only thing that changes is how we hold hands – whose hand goes over or under is based on who's taller."
Crawford 'Finally Ready' for Girlfriend
For Crawford,
who's been coy about his relationship
with Underwood, he takes the first public step: "I'm ready to have a girlfriend."
And when was the last time he cried? "After [Dallas Cowboys quarterback] Tony Romo's 5th interception before halftime."