Everybody's favorite explorer is back, some 19 years after his last adventure – this time in
Indiana Jones and the Kingdom of the Crystal Skull
.
"There's something about the character that I guess is a good fit for me," leading man Harrison Ford, 65, tells
Vanity Fair
for its February issue, "because the minute I put the costume on, I recognize the tone that we need, and I feel confident and clear about the character."
Also around as Indy again cracks the whip: Karen Allen (returning for the first time since 1981's
Raiders of the Lost Ark
, in her original role as Marion Ravenwood); Shia LaBeouf (in a role that's been hinted to be the love child of Indy and Marion); and, shown here, Cate Blanchett, who plays a Russian dominatrix named Agent Spalko and whom the magazine likens to James Bond's old bayonet-shoe wearing nemesis Rosa Klebb, in
From Russia, With Love
.
Watch your back, Indy.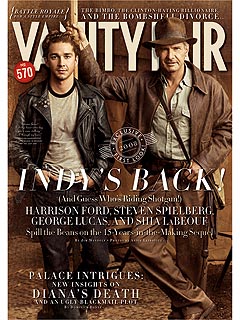 As for the span of time, producer Steven Spielberg says of both himself and Ford: "We're both older – and we both look a bit older, I think, certainly – but at the same time Harrison needed to recapture the caustic, laconic spirit of Dr. Jones, and certainly he was going to have to manage the action, and he did both of those things amazingly well. … He was just a little more out of breath after every stunt, just a little more, and so was I."
Meanwhile,
Crystal Skull
, set in 1957, opens May 22.
–
Stephen M. Silverman