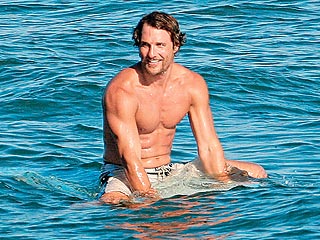 Will Binns / Gaz Shirley / Pacific Coast News
Beautiful – and by all accounts, accurate. "They're incredibly happy," says Mark Gustawes, McConaughey's friend and producer of his upcoming movie Surfer Dude. "The child will be raised with more love than it knows what to do with." Since McConaughey, 38, and Alves, a model born in Rio de Janeiro who turns 25 Jan. 28, began dating a little over a year ago, the two have bonded over their passion for all things bohemian: They have held hands in Paris, surfed in the Bahamas and showered in the public facilities at the Malibu Beach RV Park, where McConaughey parked his $100,000 Airstream trailer this summer. "They have a very loving relationship," says his mom. "I knew he wanted to be a father, and Camila is the first lady I've seen him with that I knew if it were ever going to happen, it would happen with her."
And if marriage doesn't turn out to be in the cards for her actor son (whose next movie, the comedy Fool's Gold, is due out Feb. 8), so be it. "Out in Hollywood they get their sequence all mixed up," says Kay. "But I have dropped the subject. He is going to be a wonderful dad. He likes to have fun. He won't put up with whining. But it's going to be a happy child." And should the new parents need a hand with the diapers, they can count on MaMac. ("That's what the grandkids call me," she explains. "My late husband was PaMac.") "I'll come for as long as they want me," she says. "I'm not planning any trips in June."
• Karen S. Schneider. Julie Jordan and Lisa Ingrassia in Los Angeles