As his
divorce battle
drags on, Sir Paul McCartney took to the stage Wednesday night at the Brit Awards, the U.K. equivalent of the Grammys, and announced: "I need to get back to what I do best – and that is what I'm going to do."
If the show was any indication, the 65-year-old music icon – who spent last week at London's Royal Courts of Justice trying (unsuccessfully) to hammer out a
divorce settlement
– has all but erased Mills from his life. There were no photos of the former model in the video-montage shown during his five-song set, while there were nine shots of his late wife, Linda. ("That's my mum!" McCartney's daughter Stella yelled happily as the images lit up the screen.)
McCartney also paid tribute to John Lennon in his rollicking set, playing "Hey Jude" as his former bandmate's son, Sean, looked on from the 8,000-strong audience. Mark Ronson, who picked up the award for male solo artist, put his arms around his parents and sang along, pumping his arm in the air.
McCartney – who has been linked to several women since his
2006 separation
, including
Rosanna Arquette
– said he's doing "fine" despite the divorce drama. "I'm better than ever," he told reporters. "I'm enjoying life."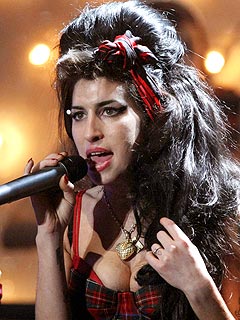 Amy Winehouse Performs
The show, hosted by Sharon, Ozzy, Kelly and Jack Osbourne, also featured a performance by rehabbing singer
Amy Winehouse
, who appeared nervous when she first launched into "Valerie." The
five-time Grammy winner
fidgeted and played with her hair but, as the crowd cheered her on, she eventually relaxed and allowed a smile to flit across her face.
Later in the evening, Winehouse emerged for an encore, belting out "Love is a Losing Game." "I love you, Blakey," she said as she finished, referring to husband Blake Fielder-Civil, who's
in jail
on assault and witness tampering charges. "Make some noise for my husband Blake!" (The crowd did not.)
In one of the night's strangest moments,
Rihanna
lost the international female solo artist award to Kylie Minogue – and apparently misheard the award's presenter. The "Umbrella" singer was already making her way to the stage when awards organizers stopped her.