•
Jake Gyllenhaal
, eating a burger at Father's Office, a Santa Monica bar. There with a friend, the actor sipped on a beer and split a plate of oysters and a cart of sweet potato fries with his companion, all while avoiding being disturbed, a fellow diner reports. With his meal almost finished, the actor looked happy as he moved on to doing some text-messaging.
•
Kristin Davis,
dining at Isabella's in New York with a female companion. The
Sex and the City
star and her pal nibbled on salad and linguini. Looking for privacy, the actress opted for a spot in the back.
• Running out of
Stella McCartney
's 9:30 a.m. fashion show in Paris,
Kanye West
rushed into the Grand Boulevards McDonald's and grabbed a McMorning breakfast to go. And there's a reason why they call it fast food: Despite the pit-stop, the rapper still made it to the 10:30 a.m. start of the Valentino show.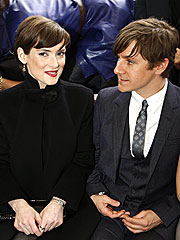 • Also in Paris:
Winona Ryder
, rubbing shoulders at the Valentino show with fellow fashionista
Rebecca Romijn.
Ryder enjoyed the event – front-row – along with musician boyfriend
Blake Sennett
of Rilo Kiley.
•
Harrison Ford,
stopping by for his appointment at POP Sound in Santa Monica. The actor arrived on his motorcycle wearing a bright yellow helmet, which he asked the front desk to watch for him. And while he waited on his studio time, the star munched on a tray of veggies.
• By SHRUTI DHALWALA, LESLEY MESSER and PETER MIKELBANK
Thursday's Caught in the Act >