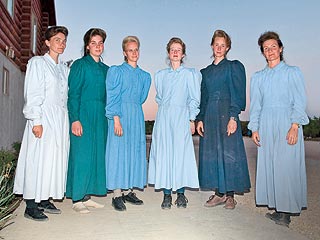 Officials looking into possible criminal charges have said that as the investigation continues, some church members seem to be purposefully misleading them. During questioning, some of the women have changed the names they have given social workers. Some children seemed unwilling to identify their mothers and fathers to child welfare workers – even pointing out multiple women. "It's going to take time to break those barriers and have them speak to us more honestly," says Darrell Azar of the Dept. of Family and Protective Services. "They're very polite, but they're not giving us a great deal of solid information."
Beyond the logistical challenges of a legal case of such size and complexity, the state must also find the resources to care for the children. Azar says all standards of care are being met and the kids "are doing reasonably well." Church members, who shunned the press for the first week of their captivity, suddenly opened up on April 14 and see it quite differently. The mothers (57 of whom, with children older than 5, were forced to leave their children's sides and return to the Ranch or move to a local safe house) insist the state has caused unnecessary hardship by crowding kids and grown-ups into inadequate facilities – they say that in one shelter there are only two bathrooms for 100 people – and failing to provide even a change of clothes. Though the children are said to be in generally fine health, some have come down with chicken pox. Meanwhile, one mother named Rebecca says she saw a young girl walk up to a sign in a shelter reading "Guests." She crossed it out and wrote "Prisoners." Another caregiver, Kate, recalls one boy, distraught and missing his mother, waking up one night at a shelter crying. "He grabbed on to me," says Kate, "and I could feel his heart beating so hard."
Marleigh Meisner, a spokesperson for the state welfare agency, feels some sympathy but insists that the state had no choice, given the suspected abuses. "We believe families should be together as much as possible, but it's not always possible."