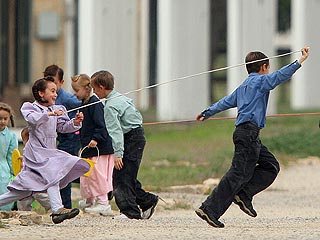 Mike Terry / Deseret Morning News / Getty
Not so long ago, say some former sect members, when the FLDS was based mostly in Utah and Arizona, there was a more benign spirit to the group. Then the accent was on fostering a sense of family and community. "I had a happy childhood," says Rita Jessop, 27, who left the sect three years ago, after being married at 18 to her father's friend, who was 50 and had four other wives. Like the women at the YFZ Ranch, she describes a busy, regimented life. "We'd get up around 5:45," she says. "One mother would make breakfast, while another would help everyone get ready. There was a job chart." If a child misbehaved or failed to do the chores, there was punishment, to be sure, but, Jessop says, it was reasonable punishment. "My mother would swat you on the behind with a little wooden spoon," she recalls. "My father would sit down and talk to you, which hurt even worse." Even given the somewhat rigid structure, says Jessop, "it was a lot of fun. It seemed to me people were so happy."
That began to change when Rulon Jeffs took over the leadership of the FLDS. "They stopped having dances and socials and then they said everyone was supposed to wear the long underwear," says Jessop. "Then you couldn't laugh out loud – you could chuckle but no boisterous laughing. For a while there were no outside movies allowed, but you could watch home movies." After Jeffs's son Warren took over in 2002, says Jessop, "then it was no TV at all, and no Internet."
Under Warren Jeffs, who was convicted last year of being an accomplice in the rape of a 14-year-old girl, the mores of the cult also took a darker turn. Four years ago he launched the Yearning for Zion Ranch in Eldorado. From the start he populated the YFZ with only the most obedient, hard-core members, even if it meant breaking up families. Kristyn Decker, 55, says that Jeffs transferred her sister Lucille, who is 13 years older, to YFZ to help care for some of Jeffs's children – he is believed to have more than 100 of them. In the aftermath of the raid Decker came to Eldorado to search for her sister, with whom she has been out of contact for 10 years. "She's a precious lady," says Decker, who has 22 brothers and sisters and who left a related sect six years ago, "subservient and sweet."