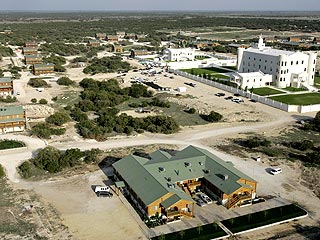 Jessop says the FLDS leaders carried out the transfer of members to the Eldorado Ranch under a cloak of secrecy. "There would be people who would just disappear from the community, and the leaders would say, 'They were called on a mission. They went to Zion,' " she says. "Sometimes they would come in a van and take one from a family or two from a family. They would just be gone." Many times the families did not even have time to say goodbye. Jessop recalls one man she knew who was dispatched to YFZ without his wife and two young children. "It was really hard for his wife to go through that," she says, "not knowing where he was."
It appears that those brought to YFZ were expected to have a near-superhuman work ethic. Sam Brower, a private investigator in Utah who spent three years investigating the FLDS, says he has heard a tape of a sermon in which Jeffs exhorts the faithful to spare no effort in their labors. "To be called to Zion," Brower quotes Jeffs as saying, "you need to work 20 hours a day and pray for the strength to do more.' " And that was evidently not just rhetoric. Randy Mankin, the editor of the local newspaper
Eldorado Success,
and his wife, Kathy, say they learned from the sheriff that deputies often pulled over male cult members for driving erratically, only to discover that the bleary-eyed men were not drunk but merely sleep-deprived. Says Kathy: "The men would work like dogs."
By and large, the women and children did not venture off the compound and would even flee indoors to avoid scrutiny if a plane passed low overhead. In contrast to the large FLDS community in Colorado City, Ariz., where families have sandboxes, trampolines and bicycles for play, the Mankins, who often flew over the compound, say they never saw any toys at Eldorado. "There's nothing," says Kathy. "There's not a sign of a child out there."