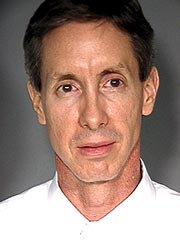 Las Vegas Metropolitan Police / EPA
The separated mothers at the YFZ Ranch acknowledge that ordinary recreation was not a big part of the kids' lives and that they favored "very guided play," as one delicately put it. But they argued that the children took plenty of delight in doing chores anyway, even at the shelter. "One of them asked [a shelter worker], 'Can we rebuild your fence for you?'" says Kate. "'Can we mow your lawn? Can we set the table?'"
Though she is critical of the FLDS, Rita Jessop cautions that no one should assume that the women of the YFZ have been brainwashed into defending the sect – that, bizarre as their practices may be to the outside world, many of them are content with their lives. "There are some women who might want to get out," she says, "but for the most part I think they're happy." Of course that is not true at the moment. At this point it appears that the women will be separated from their kids while the legal case runs its course, which could take months. "We have very heavy hearts," says Esther. "The children are our lives."
• Darla Atlas, Johnny Dodd and Anne Lang in Eldorado, Vickie Bane in Denver and Daniel S. Levy in New York City