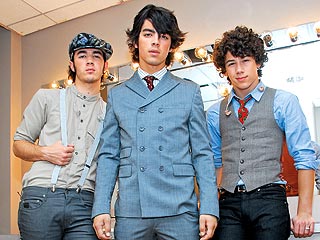 Clark Samuels / Startraks
Jonas Bros.
Born to Rock:
They're the teen world's hottest band—and according to estimates, 15-year-old Nick (right) and brothers Joe, 18 (center), and Kevin, 20 (left), earned about $12 million in 2007 from album sales of 1.2 million, touring with Miley Cyrus, merchandising and appearances.
Next Up:
The Wyckoff, N.J., natives (managed by Dad Kevin) continue their own 140-date tour and star in a June 20 Disney Channel movie,
Camp Rock
– with tie-in products galore. A TV series,
J.O.N.A.S.
, is in the works
Splurges:
The brothers bought new computers and a diamondencrusted Chopard watch for their mom, Denise. They also give 10 percent of their earnings to Nick's charity, Change for the Children Foundation. But there's some left over: Snappy dresser Nick nabbed $1,550 John Lobb shoes
Angus T. Jones
With a salary of roughly $1.2 million per season on CBS 's
Two and a Half Men,
Jones is one of the richest half men in Hollywood. "It's a slow build for kids in the industry," says a casting agent. But the Austin, Texas, native, who's tutored on-set, has likely seen pay increases, thanks to the show's longevity.