The movie won't hit theaters until September – but here's a peek at
Brad Pitt
, in character, as a hapless gym employee who intercepts a CD with CIA secrets from the Coen Brothers'
Burn After Reading.
The film, which is set to open at the Venice Film Festival in August, revolves around a fired CIA agent (played by John Malkovich) whose memoir – containing government secrets – gets intercepted by his wife (Tilda Swinton) who wants to use it in her divorce proceedings. But, oops, the information winds up with Pitt and Francis McDormand's characters.
George Clooney
, pictured in bed with Swinton's character, is the man tasked by the CIA with returning the damning disc – at all (comic) costs.
–Brian Orloff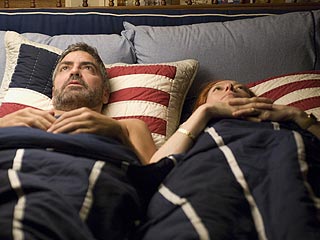 Like this story? Click on the Yahoo Buzz! button below to Buzz it up!