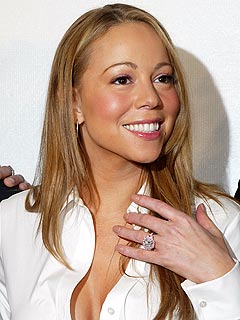 Nick:
From the first time we sat down to discuss the video at the Beverly Hills Hotel, we connected. We had so much in common spiritually, and we laugh at the same things. I didn't have to put on my Mac Daddy suave mode. I was able to be myself with her. We are both eternally 12 years old.
Mariah:
[
Laughing
] We were having a such a good time on the shoot.
Nick:
I brought her little pieces of candy. I'd write little third-grade notes instead of being over-the-top.
Mariah:
He wrote a note, "Will you be my girlfriend?" with boxes for yes or no. In the video, we're boyfriend and girlfriend. It seemed very natural.
Were all your friends surprised by your marriage?Mariah:
Some were, but some weren't. One thing [few people] knew was we got tattoos a few weeks earlier. So anyone who saw my [Mrs. Cannon] tattoo wasn't surprised.
Nick:
To me rings are special and exciting, but tattoos mean more than anything. They're forever and ever. They professed our love.
Mariah:
And they hurt!
Nick:
A lot.
Why did you keep your engagement and wedding plans a secret?Mariah:
We only told people who had to know. [To everyone else] we said we were [going to the Bahamas] for the video. If we brought a million people with us, it would've been obvious we weren't shooting a video.
The week of the wedding, Nick and Mariah traveled to her estate on the Bahamian island of Windermere on a Gulfstream jet. They also flew in boxes of live Maine lobsters, fine china and Dom Pérignon champagne. Just a dozen guests attended, including BFFs like rapper Da Brat.
Mariah:
Only about four people knew we were going down there to get married. Once we were there, they gave me a bachelorette party. Everyone calls me Mary Poppins. No matter how provocatively I might dress, I'm very prudish. So they did everything they could to shock me. They had a grab bag full of silly things they think a bachelorette wants. They were so happy they got to embarrass me.
Describe your wedding dress.Mariah:
It was a simple, slim-cut dress [by Nile Cmylo] in an off-white that turns into a very pale pink to match the sand. And [Christian] Louboutins – I can wear high heels with Nick because he's tall. Flats are not in my repertoire. Nick looked beautiful in his tux.
Nick:
I think it was Balenciaga.