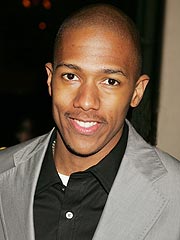 How was the ceremony?Mariah:
We got married at sunset on the beach. We were trying to get the really golden light. It was late – of course I was late, it's just in my DNA. We had a white carpet on the sand that went to the water's edge. My pastor Clarence Keaton flew in from New York. The whole wedding was really beautiful and sweet. Being there with loved ones under the sky . . . it was a spiritual moment.
What were you thinking then?Mariah:
When I walked down the aisle, I was thinking, "My veil is blowing all over the place!" It was really windy. I was nervous. We didn't know if they would make us speak.
Nick:
I haven't been shy in years, but I was speechless. I was elated, but I was thinking, "Don't pass out." What the pastor did was really cool. He said, "The eyes are the window to the soul," then gave us an entire minute to stare into each other's eyes. So I was saying, "Don't cry."
Mariah:
With the sun setting on the turquoise water, we kissed.
Nick:
We had our passionate wedding kiss. Then I swooped her off her feet.
Mariah:
He carried me to the water.
And afterward?Mariah:
The cake came out. Everybody stumbled over their toasts. They didn't know what to say. They thought they were coming to a shoot!
What about a honeymoon?Mariah:
That was being here [in the Bahamas] after the wedding. Some friends stayed, too, but it was really time for Nick and I to be together.
Have you thought about kids yet?Mariah:
It's part of the whole purpose of getting married. I'd just want our children to have the best childhood and upbringing they possibly could.
So you have thought about kids?Mariah:
Yes.
Nick:
Absolutely.
What do you love about each other?Nick:
She is beautiful on the outside and 10 times as beautiful on the inside. She is such a giving, nurturing spirit. Someone who has spent their entire life making others happy.
Mariah:
We really do feel we are soulmates. I never felt a love like this was in the cards for me. I was always so career-oriented. I would hope and pray for my friends to find love, but I never did that for myself. And then? Everything just fell into place!