George Clooney
is dreamy and all. But,
Victoria Beckham
declares, he can't hold a candle to her husband, soccer star
David
.
The former Spice Girl has recently struck up a friendship Clooney, who has been named PEOPLE's Sexiest Man Alive – twice!
"He was so nice, a real gentleman and absolutely hilarious," Beckham told Britain's
The Sun
on Wednesday. "He has a great sense of humor. But I think David is better looking than him. Definitely."
Hmmm – bet
Sarah Larson
would beg to differ.
Rumor Control
In a separate interview with the U.K.'s
GMTV
, Beckham also revealed that – after last year's Spice Girls
reunion tour
– she's retiring from pop music.
"I'm not going to sing anymore," she said. "I've hung my microphone up."
She also took a few moments to deny a slew of rumors, including that she's going to design costumes for
Tom Cruise
's next movie.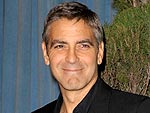 "No, No. I'm not joining the Pussycat Dolls either," said the mother of three. "I heard about that. The thought of leaping around on the stage in a bra top and knickers! No – and I'm not pregnant."
Like this story? Click on the Yahoo Buzz! button below to Buzz it up!