Gwyneth Paltrow
's showing off a bold new look on the latest cover of
V Magazine
– photographed by Mario Sorrenti – and in it, the
Iron Man
actress spills new details about her home life, her post-baby weight loss, and her indulgence in certain chocolate-chip "vices."
But how did she make the jump from motherhood back to movies? "I have an amazing nanny," she tells the magazine, on newsstands May 15. "I didn't have one till Apple was 14 months old, but then, because we were going on tour [with husband Chris Martin's band Coldplay], we found someone fantastic. She's been with us ever since.
Without her, "I was really tired. ... [but] obsessed – madly, deeply in love – with my daughter. I wanted to be with her all day long. I was under a crazy spell. I still am, but I've had to adjust to reality more."
Another rough part of parenthood? Losing the baby weight!
"I put on 40 pounds with Moses. And I found it really hard to loose the last 20 pounds," Paltrow, 35, admits. "I didn't mind having the big boobs. But it was the stomach roll, the back fat, and the post-pregnant butt. And it was so hard to get rid of."
She did it with by eating "organic, seasonal food that isn't processed."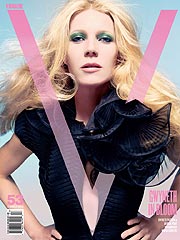 "I haven't eaten meat for about fifteen years. I eat fish, a little bit of dairy – not much milk – but I love cheese," she adds. "We'll make chocolate chip cookies and eat them, but sugar makes me feel pretty bad. I have coffee and wine. I've got lots of lovely vices!"
Like this story? Click on the Yahoo Buzz! button below to Buzz it up!