Newsman Tim Russert was plain-spoken and always determined to get to the truth – qualities, he often said, he inherited from his father, a Buffalo sanitation worker affectionately known as Big Russ.
In 2004, Russert, the longtime host of NBC's
Meet the Press
, wrote the bestselling book
Big Russ & Me
, about the life lessons he learned from his dad, and how he passed those lessons on to his own son, Luke.
The journalist, who
died from a heart attack
at the age of 58, two days before Father's Day, shared these poignant family stories in
Big Russ & Me
, and a follow-up book,
Wisdom of Our Fathers
:
All through my childhood, and well beyond it, my father held down two demanding jobs. But as hard as he labored and as long as he toiled, we never heard a single complaint about his heavy workload or the sacrifice he was making. He didn't talk about it, he just got it done. And if he had to take a third job to support his wife and four kids, he would have done that, too ... like so many members of the strong, silent generation who grew up during the Great Depression and went off to war, he had learned long ago that life was hard and nothing was handed to you. In fact, Dad considered it a sign of success, and even a blessing, that he was able to hold down two jobs. He could remember a time when a man considered himself fortunate to have even one.
Russert's father, a war hero who rarely talked about his experiences during World War II, agreed to share one battle story with his son:
When I was in high school, the two of us were in the basement one day when Dad walked over to his desk, opened a drawer and took out a manila folder. He handed me a yellowed clipping from the October 27, 1944 edition of the Southport Weekly, an English newspaper. The headline read: US BOMBER CRASHES IN FLAMES IN AINSDALE, and the article described the crash of a B-24 Liberator at an Air Force Base in England. I read it quickly and zeroed in on the key lines: "When the plane crashed it broke up, and some of the airmen were thrown clear." Dad, I realized, had been one of them."This is amazing", I said.
He looked at me and said, "It was a lot tougher for the guys who died." Then he took back the clipping and put it away without another word. The conversation was over.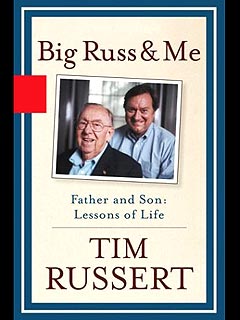 Russert's father never took a single sick day from his main job as a foreman for the sanitation department. Russert tried to pass that work ethic onto his own son, Luke:
On September 7, 1995, I took Luke, who was ten, to a baseball game at Camden Yards in Baltimore. [That was the night] Cal Ripken, Jr. was going to break Lou Gehrig's Iron Man record just by showing up and playing in his 2,131st consecutive game. This wasn't about something glitzy, like home runs ... I explained to my son that Cal Ripken's record was different from all the other records because this one was about loyalty, dedication, discipline, diligence and persistence.I told Luke that night, and I meant it with all my heart, that Cal Ripken had done for baseball what my Dad had done for our family.
In Wisdom of Our Fathers, Russert wrote about his father's reaction to Big Russ & Me:
I always go to [my father's home] for Thanksgiving, and in 2004, a few months after the book came out, we were loading up the car to drive to the airport when Big Russ came over to me to say goodbye. For as long as I can remember, Dad and I had always parted with a handshake and a half hug. But this time he gave me a huge bear hug and he said softly, "I love you" – something I had never heard him say before. I was fifty four years old, and all I could think was, Boy, I wish I had written this book thirty years earlier.