Despite the 90-degree Los Angeles heat, eight-months-pregnant Mary Lynn Rajskub kept cool at her baby shower Saturday at her L.A.-area home.
Rajskub, 36, who is
expecting her first child
with live-in boyfriend Matthew Rolph, a personal trainer, told PEOPLE at the shower that they're keeping the sex of the baby a surprise. "I'm excited for the surprise," says the star, who painted her nursery green. "We only have one more ultrasound where we have to cover our eyes!"
Guests at the BabyCenter-hosted event, which included
24
costar James Morrison and stand-up comedian Greg Behrendt, nibbled on pulled-pork sandwiches, macaroni and cheese, truffle fries and mini turkey burgers in Rajskub's backyard. Also on hand was a 'dunk-a-dad' station and a swimming pool, where many of the guests – along with Rajskub – took a dip to beat the heat.
The actress, who is currently filming the eighth season of
24
, said it's good to be working – despite her growing belly. "Everyone is so nice to me," she jokes. "I sit behind my computer and every time I stand up, they yell cut, and bring in a body double."
But Rajskub says she has yet to receive a baby gift from costar Kiefer Sutherland, who is currently in South Africa filming the
24
TV movie. "What do you think he'll get me?" she wondered. "A guitar? A car? Maybe he'll send something from South Africa."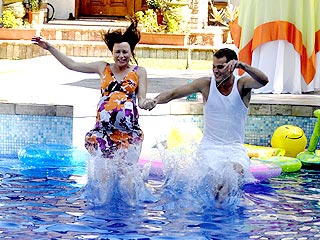 Like this story? Click on the Yahoo Buzz! button below to Buzz it up!