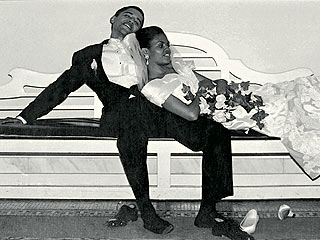 Can you tell me how this experience has changed your marriage?Barack:
It's made it stronger. The tough times for us were when the kids were real small, I was away a lot and Michelle was still working. So, the burden on her was enormous, and I think there's a feeling that maybe I didn't fully appreciate that burden. That was something we worked through. And I think we're both more patient with each other. We both know how to avoid making the other person feel aggravated. And I'm so proud of her and I think she knows how much I love and appreciate her. So, she puts up with me.
Michelle:
I think it has made us stronger. Time and love and sacrifice and hard struggles, I think, make you stronger.
Barack:
I also think that she knew at the beginning when I was doing this that if she came to me and said don't do it, I wouldn't have done it.
Michelle:
That's the key, for sure.
Barack:
And if I ever thought that it was ruining my family, I wouldn't do it.
Michelle:
We're constantly balancing each other. I know that if I were to say, "I can't take this," it would be over.