It was just one of those days.
The U.S. women's gymnastics team took silver in the team all-around Wednesday, after a series of slip-ups put the gold medal out of reach.
A devastated Alicia Sacramone fell on the balance beam and floor, while Shawn Johnson and Nastia Liukin stepped out of bounds during their floor exercises. (Injured Chellsie Memmel could only compete on the uneven bars.)
That left China atop the podium with a score of 188.900 – 2.375 points ahead of the Americans. Romania took bronze with 181.525.
"[China] had a great meet, a great day, and they deserve that medal," said Shawn Johnson. "Give us another say, and maybe we'll come out on top."
Sacramone, who slipped on the beam and burst into tears following her fall on the floor routine, composed herself to face reporters afterward.
"I don't know what happened out there," Sacramone said of the floor exercise. "I really thought I was on my feet. It was hard to get out of that funk [from the balance beam]. It definitely affected me on the floor."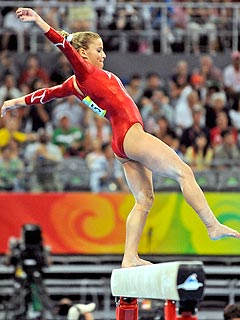 Still, Sacramone's teammates had her back. "It's heart-wrenching when you know you're representing your country and you gave your heart and soul," Johnson said. "[Alicia]'s overcome so much. No matter what, she's our team leader and team mom. Mistakes or not, she's still part of Team USA."
Liukin, for one, tried to find a "silver" lining. "The gold medal would definitely have been better," she admitted. "But we just won an Olympic medal – so any color is amazing."
• Reporting by CYNTHIA WANGRELATED GALLERIES:
• See past Olympic medal-winners
on the covers of PEOPLE