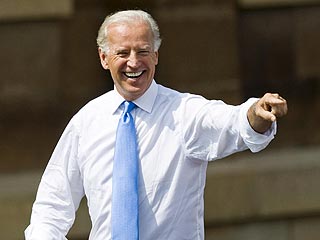 Sen. Biden, are you ready to hit the basketball court with Barack?Joe:
Hell yeah, man.
Jill:
He plays with the grandkids; we have a basketball hoop. He can train with Maisy.
Joe:
I can't keep up with Maisy! The one thing I want my kids to remember about me is that I was an athlete. The hell with the rest of this stuff.
You were a college freshman when your new boss was born. Does that make you feel old?Joe:
I'm not old. There are still 44 senators older than me.
Are you carrying your rosary with you?
Joe:
(Grimaces) No. I did have it with me [earlier], but I had a light blue suit on and Jill said, 'No, wear a dark one.' So I changed my suit and forgot the rosary in my pocket. I keep losing them. I think people steal 'em on me – I'm joking.
You used to stutter. Is it still something you have to consciously control?Joe:
I don't worry about it, but every once in a while you catch yourself and you're like, 'Oh, man.' It's not very often, but it's a humble reminder.
You conquered it when?Joe:
Really finished with it by my third year in college. I had to screw up all my courage to take a public speaking class in college. I was scared to death to take it. Speech therapy was a luxury no one could afford. But stuttering taught me a lot. It was probably the best experience. I wouldn't trade it – but I am
so
glad it's gone.