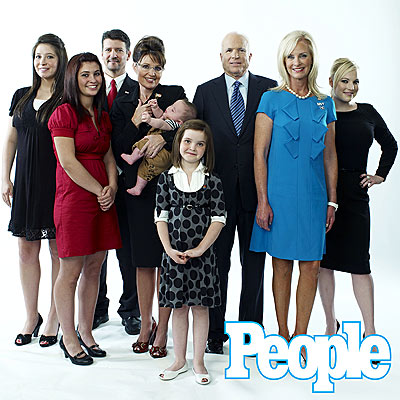 Mr. Palin, what does Sen. McCain need to know about working with your wife?TODD PALIN:
She's a hard worker and she's not wired normal. (Laughter)
Sen. McCain, of all the candidates you considered, what drew you to her?JOHN:
Obviously, I found her to be very intelligent and very well-versed on the issues. But I think the important thing was that she's a reformer. She's taken on special interests since she ran for the PTA and the city council and mayor. The courage, I guess, is what most impressed me.
Mrs. McCain, how much did you weigh in on this process? CINDY MCCAIN:
I was part of it. I was very enthusiastic [about Palin].
What does Gov. Palin need to know about working with your husband?CINDY:
From a work aspect, they're very compatible. He works very hard, he's very direct. I think she already knows these things. And she's a marathoner: I don't think there will be any trouble keeping up with him!
What do they all need to know about hanging out with your family on the campaign trail?
CINDY:
We take each day as it comes. It's a lot of fun. Enjoy the moment. The most important thing is family and making sure that family life stays as normal as possible under the circumstance. My best advice to them would just be to keep your kids close.
Mr. Palin, you have this tiny baby with special needs. Do you worry that people may wonder if she'll be giving short shrift to her family?TODD:
She's heard that her whole life – the challenges of being a female and mother in the work force. I remember the first time she ran for mayor one of her fellow council members told her you can't run because you've got three negatives: Track, Bristol and Willow. Those are the three kids we had at the time. So when you tell her that kind of stuff, she just gets fired up. We're an Alaska family that adapts.
CINDY:
I disagree with anyone who would say she can't do both. Any woman who's been in a situation where they are working and have children know that you give 300 percent; no one will be slighted in any of this, least of all her baby. She has a lot of energy, she's a woman with great drive and great vision.
A woman on the ticket is what a lot of Hillary Clinton voters wanted to see. What's your message to women who might see a second shot at shattering the glass ceiling?SARAH:
Certainly in this election cycle, women aren't finished yet. And women can shatter that glass ceiling once and for all.
JOHN:
I think that Sarah appeals to a lot of voters – I think because of her independence, because of her reform agenda and her record of balancing both family and service. It is motivation to not just Clinton voters but to lots of voters.
Given her young age and relatively short resume, why is she any more ready to be president than Sen. Barack Obama?JOHN:
I don't think it's a short resume. She first ran for office back in 1992. I don't know what Senator Obama was doing then, but the first time she ran was 1992. That's 16 years. I think that's a pretty, pretty event-filled and record-filled resume.
SARAH:
And I haven't had too many years other than that to fill up yet.
JOHN:
There you go.
Do you feel ready to be a heartbeat away from the presidency?SARAH:
Absolutely. Yup, yup. Especially with a good team around us.
How do you feel about your son, Track [an Army private], going off to war in Iraq?SARAH:
Anxious, but very confident. He's ready.
TODD:
She's at peace. She knows that he's not scared. He's been trained for this mission and so we've seen that confidence in that young man. We're, of course, nervous.
What's on the dinner table most often in the Palin house?TODD:
Our favorite is moose hot dogs, caribou hot dogs. We get caribou, get 'em ground up and put them into hot dogs. They're Polish.
Does your wife hunt any more?TODD:
Not lately. But I was supposed to be hunting this weekend, so I had to cancel that.
Where do your children's names come from?TODD:
Sarah's parents were coaches and the whole family was involved in track and I was an athlete in high school, so with our first-born, I was, like, 'Track!' Bristol is named after Bristol Bay. That's where I grew up, that's where we commercial fish. Willow is a community there in Alaska. And then Piper, you know, there's just not too many Pipers out there and it's a cool name. And Trig is a Norse name for "strength."
Sen. McCain, as you leave on a road trip to Pennsylvania, what do you think about having all those kids on your bus?JOHN:
(Laughs)
SARAH:
It's like, 'Hold onto your hats!'
Mrs. McCain, do you even remember the last time he changed a diaper?CINDY:
No. And I'm not sure he does.
JOHN:
Heh-heh. I remember. There's some experiences you never forget.