Madonna
's A-list pals had fans playing "Who's That Girl?" as they slipped into her London show on Thursday night, not long before the lights began to dim.
The singer's gym-buddy (and fellow Anglophile)
Gwyneth Paltrow
was all smiles as she settled in to watch the
Sticky and Sweet
show next to fellow actress
Kate Hudson
. Also sitting nearby in London's massive Wembley Stadium:
Fergie
and
Penelope Cruz
.
In fact, Madonna, 50, had so many famous friends on hand, they filled not one, but
two
VIP areas.
Another all-star box included
Nicole Kidman
, who – like Cruz, Fergie and Hudson – is in London prepping for the upcoming movie-musical
Nine
. During the singer's athletic, 90-minute set, the Oscar-winner laughed and joked with a girlfriend –
Naomi Campbell
, and "I Kissed a Girl"'s Katy Perry also made the scene.
Madonna – who had spent the
previous night partying
for husband Guy Ritchie's birthday – showed no signs of fatigue as she aerobicized her way through super-charged renditions of "Vogue," "Into the Groove" and her newest hit, "Give It 2 Me."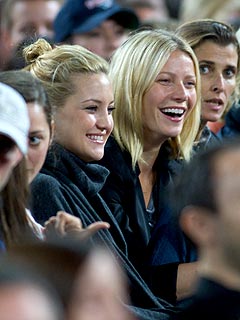 Mike Marsland / WireImage
And the open-air concert went off without a hitch, despite dire weather predictions in the notoriously soggy city. "I would like to thank God, all my friends," she said as the show wound down, "because it didn't f---ing rain!"
RELATED GALLERY:
•
1985: Madonna embarks on her FIRST tour!