Before boarding the Learjet 60 that ultimately crashed upon takeoff after midnight Friday and killed their two crew members and the two other passengers aboard, Travis Barker and DJ AM participated in a free, four-hour concert under the name TRVSDJ-AM for about 1,000 people in the college town of Columbia, S.C.
"School just got back in, so a lot of the college crowd was at the concert," freelance photographer Graeme Fouste, who also works for the NBC affiliate WIS, told PEOPLE on Saturday evening. (These are photos Fouste took at the concert.).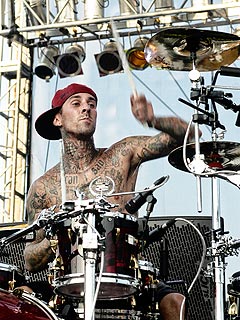 Fouste, 26, said the event "had a really good vibe. Columbia doesn't really get that many big acts like that," so the crowd was appreciative. The concert, which also featured former Jane's Addiction singer Perry Farrell and Gavin DeGraw, lasted from 6 to 10 p.m.
Working at the TV station, Fouste heard the tragic news about what happened after the concert because "we were called in." He's now tracking what's taking place at the burn facility where Barker and DJ AM (Adam Goldstein) are being treated.
The tragedy occurred shortly after takeoff, with air traffic controllers reporting that they saw sparks from the aircraft. The jet hurtled off the end of a runway and crashed through antennas and a fence, coming to rest a quarter-mile away on an embankment across a five-lane highway, where it was engulfed in flames, according to Debbie Hersman of the National Transportation Safety Board.
"It's absolutely terrible and tragic," Columbia Mayor Bob Coble said.