Curtis Parham, an eyewitness who was the first person to talk to Travis Barker and DJ AM (real name: Adam Goldstein) after
their plane crashed
last Friday in South Carolina, has opened up to PEOPLE about the terrifying first moments of accident.
"I was in my truck sitting next to the runway in the [nearby] parking area," he recalls. "I heard this scraping noise like metal scraping. I saw the plane come down the runway on the belly of the plane. It made a loud 'bump,' and bounced. It looked like it was going around 120 or 130 miles per hour ... Then, I saw a big plume of dust and gas and smoke."
Parham called 911 and drove to the crash site, grabbing his flashlight for help in the dark night. "Mr. Barker and Mr. Goldstein were kind of pacing," he says. "They were about 50 or 60 yards away from the plane. Mr. Barker was saying, 'Oh, my God, oh my God.'"
Still inside the plane were the pilot and co-pilot as well as security guard Charles Still and Barker's assistant and close friend Chris Baker, who all died in the crash.
"The aviation fuel was running back across the highway and had ignited, so there were flames across the road," says Parham. "The ambulances got there, but they were on the other side of the flames so they couldn't get through."
Barker and Goldstein were in a considerable amount of pain, he says, but Barker asked about helping the others in the plane. "There was no way to get up on the plane," Parham says. "It was such an intense fire."
After Barker was carried to the first responders' truck, he says, "We sat him on the bumper of the truck. He asked for water because he was thirsty and because aviation fuel was in his eyes [and] they were burning. I got some water and helped Travis rinse his eyes out, then he drank some of it too."
In the aftermath of the accident, says Parham: "For a couple of days I didn't sleep well – or sometimes not at all – seeing them like that and knowing that people had lost their lives."
Now, he'd like to reach out to the survivors to let them know he's thinking of them. "I'd really like to see these guys again," adds Parham.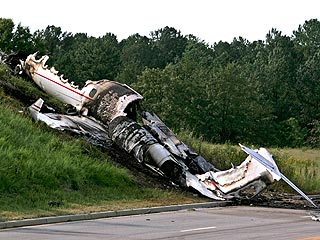 RELATED GALLERY:
•
1991: Reba McEntire loses her band in plane crash