Barack Obama addressed an ebullient crowd at an enormous victory rally in Chicago's Grant Park celebrating
his election
as 44th President of the United States on Tuesday night.
"If there is anyone out there who still doubts that America is a place where all things are possible; who still wonders if the dream of our founders is alive in our time; who still questions the power of our democracy," said Obama, 47, "tonight is your answer."
The President-elect, who made history by becoming the first African-American elected to the highest office in the country, was joined by his wife, Michelle, and daughters Malia, 10 and Sasha, 7 onstage. Also among the estimated 240,000 people who came out for the rally were a tearful
Oprah Winfrey
,
Brad Pitt
, and politician Jesse Jackson.
"It's been a long time coming, but tonight, because of what we did on this day, in this election, at this defining moment, change has come to America," said Obama, who was greeted by thunderous cheers.
He thanked his number one supporter – his wife – whom he called, "the rock of our family and the love of my life." And offered up a reward to his two daughters for enduring a long campaign, saying, "You have earned the new puppy that's coming with us to the White House."
Obama also made special note of his beloved grandmother, Madelyn Dunham, who
died this week
, saying, "I know my grandmother is watching, along with the family that made me who I am… I miss them."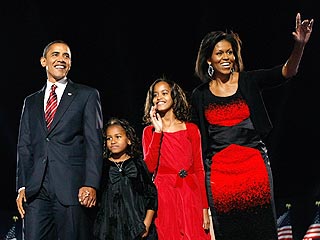 As for his his rival, John McCain, Obama praised him for his long years of service and sacrifice to the country, calling him a "brave and selfless leader. "
Earlier in the day, 70,000 guests received coveted tickets to the rally – and up to 1 million people were expected to attend, according to Chicago authorities. At the moment when news organizations declared Obama the next president, the crowd erupted in shrieks and screams of "Wow!" and "My God!" People shook, wept and hugged each other.
"Everyone wants to be part of American history," Mayor Richard Daley said earlier in the day, predicting the enormous crowd.
Grant Park was transformed for the occasion with white tents and a stage lined with American flags and adorned with red, white and blue bunting. Due to security concerns, the new President spoke to the crowd from behind a wall of thick bulletproof glass surrounding the podium.
Malia and Sasha's Big Day
On Tuesday, after a final burst of campaigning in Indiana, Obama retreated into a private comfort zone – an Election Day ritual game of hoops with staff and buddies. He then shared an intimate dinner of steak at his Hyde Park home with his family, including his mother-in-law, Marian Robinson, and brother-in-law Craig Robinson.
Obama's daughters went to school as usual on Tuesday, then got their hair done for the big night. Their grandmother, Marian, who has taken care of the girls while their parents traveled with the campaign, laughed when she told PEOPLE: "I hope [Michelle] doesn't make them go to school tomorrow – but if she does, I'll be there to take them."
As for her son-in-law's history-making win, Robinson said: "Is this exciting or what? I cannot wrap my head around it."
RELATED GALLERY:
•
The Obamas spill on family life on the cover of PEOPLE!
RELATED ARTICLE:
•
25 Questions for Barack Obama