• "I am thrilled and humbled to be nominated among all of these amazing actors. 'Henry' is such a great character to play and I am so happy that people watch and enjoy the show." –
Jonathan Rhys Meyers
, Best Actor in a Television Drama for
The Tudors
• "I was told by my Mum. She texted me, actually. She's sort of linked up to some hyper-efficient Google alert system and she knew minutes before anyone else. She couldn't quite believe and I didn't believe her either. I thought she was on the wave of some fantasy. I didn't believe it until I got the official nomination." –
Sally Hawkins
, Best Actress in a Comedy or Musical for
Happy Go Lucky
, to PEOPLE
• "I really did not think it could get any better. First, an Emmy nomination and now a Golden Globe. This is an incredible honor – a dream come true." –
Diddy
, whose film
A Raisin in the Sun
was nominated for Best Mini-Series or Motion Picture Made for Television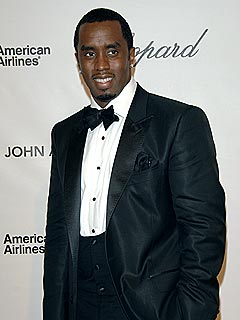 Stephen Shugerman / Getty
• "Playing April Wheeler and Hannah Schmitz, two strong and complex characters was a true gift. To be recognized by the Hollywood Foreign Press Association for both performances is a genuine honor and I am incredibly grateful. I am forever thankful to my husband Sam Mendes, Leo and fellow cast members and for Justin's beautiful script. I am equally proud to share this day with Stephen Daldry and David Hare." – Double nominee
Kate Winslet
on her Best Actress Drama nomination for
Revolutionary Road
and Best Supporting Actress nod for
The Reader
• "I'm deeply honored and excited by the nomination. And, call me crazy, but I'd like to think I have a real shot at taking home – Wait Piven's not in this category, is he? Crap." –
Neil Patrick Harris
, Best Performance By Supporting Actor in Television comedy for
How I Met Your Mother
• "Dustin and I had the best time making this film. It seems insane to get an award nomination on top of that, but I'm thrilled." –
Emma Thompson
, Best Actress in a Comedy or Musical for
Last Chance Harvey
• "It is so exciting to be nominated, but working with Emma was reward enough. Don't get me wrong, I still want to win!" –
Dustin Hoffman
, Best Actor in a Comedy or Musical for
Last Chance Harvey
• "I am really thrilled! I guess I should dress up more. Maybe Chanel could do a couture line for seniors?" –
Shirley MacLaine
, Best Actress in a Miniseries or Television Movie,
Coco Chanel
• "I am absolutely thrilled and cannot be happier that
The Wrestler
has been given so much attention. It is such an honor for the HFPA to have recognized my work and Mickey's in this beautiful film." –
Marisa Tomei
, Best Supporting Actress for
The Wrestler
• "When I got a phone call early this morning, my heart dropped because I thought my nanny was calling in sick!!! I am so thrilled! It is a joy to go to work everyday and this is the icing on the cake. Congratulations to Sally [Field]!" –
Rachel Griffiths
, Best Supporting Actress in a Series, Mini-Series or Motion Picture Made for Television for
Brothers and Sisters
The 66th Annual Golden Globe Awards will be broadcast Jan. 11 from the Beverly Hilton at 8 p.m. ET on NBC.
Reporting by LISA INGRASSIA, EUNICE OH and BRENDA RODRIGUEZ