A nude picture of Carla Bruni-Sarkozy plastered on a white canvas shopping bag just doesn't wash with the French first lady.
The wife of President Nicolas Sarkozy wants the clothing firm Pardon, located on an island in the French Indian Ocean, to stop manufacturing and selling the carrier bag with her photo on it – and is suing for about $167,000, reports the French news bureau Agence France Presses.
"Neither Mrs. Carla Bruni nor the photographer has given consent for the use of the photo," said her attorney Gesche Le Fur at the hearing before a court in Saint-Denis, the capital of the island of Reunion.
The photo in question, showing the former supermodel standing up without a stitch, was taken by fashion lensman Michel Comte in 1993 for an anti-AIDS campaign, said Le Fur, adding that Bruni-Sarkozy "did not want this goal to be hijacked" for commercial purposes without her consent.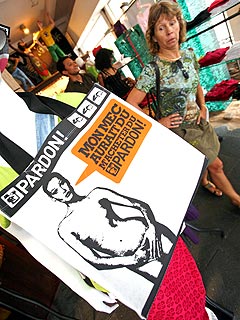 RICHARD BOUHET / AFP / Getty
Next to the photo on the bag, which sells for about four dollars, is a caption reading: "My boyfriend should have bought me Pardon."
Pardon head Peter Mertes informed the court that 10,000 bags have been removed from retail stores. "We plan to burn them all," he testified.
A decision in the matter is expected Thursday.