After a week of rousing performances, including her
knockout appearance
at Sunday's Grammys,
Jennifer Hudson
is ready to take her show on the road.
The Grammy winner, 27, will kick off her first solo tour on April 2 in Philadelphia alongside R&B singer Robin Thicke.
The duo will co-headline a five-week U.S. tour that will wrap up ends in Houston on May 8.
"I am so grateful – my first Grammy and my first tour. It doesn't get better than that," Hudson told PEOPLE in an exclusive statement.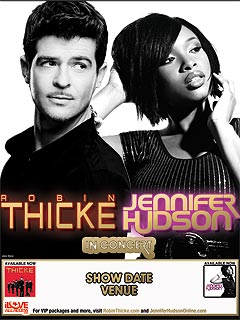 On the itinerary are concert stops in Baltimore, Washington, D.C, New York City, Detroit, Atlanta, Memphis, St. Louis, Chicago, Las Vegas, Los Angeles and Dallas, among other cities.
Triumphant Return
Starting with delivering the National Anthem at the
Super Bowl
Feb. 1, Hudson has made a triumphant return to the spotlight just over three months after her mother, brother and nephew were
murdered
in Chicago. Her
estranged brother-in-law
has pleaded innocent to the killings.
"It's a New Year, she's excited about performing again. She knew it was time," a source close to Hudson told PEOPLE. "Fans can expect the Jennifer they've come to love. She just really loves to perform; it's who she is, it's what she does."
RELATED GALLERY:
•
Jennifer copes with the murders of beloved family
RELATED ARTICLE:
•
Jennifer spills about her fiancé