Guy Fieri spends about 200 days on the road taping Food Network's
Diners, Drive-ins and Dives
and
Guy Off the Hook
. When he's home, his time belongs to his family: wife Lori and sons Hunter, 12, and Ryder, 3, both of whom love to hang out in the kitchen with dad. In PEOPLE's April 6, 2009, issue Fieri and family show off a fun, easy meal based on some of his boys' favorites. "Let kids learn what tastes good and what doesn't," says Fieri. "They may come up with a great combination you never thought about."
4 Bean Salad
Makes 6-8 servings
½ cup red wine vinegar
4 tbsp. balsamic vinegar
¼ cup extra-virgin olive oil
2 tsp. black pepper, fresh cracked
¼ cup scallions, diced
¾ cup red onions, finely diced
¼ cup peppadews (sweet red peppers) or roasted red bell peppers, finely diced
½ tsp. sea salt
3 tbsp. honey
12 oz. can white beans, rinsed and drained
12 oz. can chick peas, garbanzo beans, rinsed and drained
12 oz. can pinto beans, rinsed and drained
12 oz. can black beans, rinsed and drained
1. Mix all ingredients together and let set up in refrigerator for at least one hour. Mix thoroughly before serving.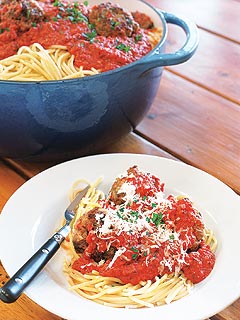 Hunter's Spaghetti & Meatballs
Makes 8-12 servings
2 tbsp. extra virgin olive oil
1 cup red onion, diced, about 1 onion
½ cup red bell pepper, minced, about ½ of a pepper
2 tbsp. garlic, minced, about 5 cloves
1 tsp. salt
1 cup 2% milk
1 cup sourdough bread slices, crust removed cut ½ inch, about 2 slices
1 lb. ground beef 80/20 fat content
1 lb. ground pork sausage, casing removed
2 tbsp. basil, fresh, minced (about 6 leaves)
2 tbsp. oregano, fresh, minced
1 tbsp. black pepper, fresh cracked
2 tbsp. Italian parsley, minced
1 ½ tsp. red chili flakes
½ cup Parmesan cheese, finely grated
1 egg, beaten
1–2 lbs. Spaghetti, prepared according to package
½ cup Parmesan cheese, shredded, for garnish
5-6 cups marinara sauce, recipe follows
1. In a large sauté pan over medium heat, add oil, and sauté onions, bell peppers and garlic. After 2 minutes add salt and cook until tender. Remove from pan and let cool.
2. Pour milk over bread crumbs and let soak for 5 minutes. Then remove from milk, and squeeze out excess, until bread is moist.
3. Add meat, soaked bread, cooled vegetables, and remaining ingredients. Mix thoroughly, but gently into 2-in. balls.
4. In same large sauté pan used for vegetables, add 1 tbsp. oil and cook meatballs, browning each completely. Continue to cook over medium heat until internal temperature reaches 165º (use a digital temperature gauge).
5. Have pasta prepared according to directions on box. Drain, toss with about 2 cups marinara sauce, either portion to individual plates or pasta bowls and add more sauce and 3-4 meatballs per person, then garnish with Parmesan cheese, or in a large serving dish add more sauce on top, then meatballs and cheese. Pass additional cheese when serving.
Marinara Sauce
Makes 10 Cups (8-12 servings)
3 tbsp. extra virgin olive oil
1 ½ cups yellow onion, diced
8 garlic cloves, medium size, crushed
3 28-oz. cans fire-roasted diced tomatoes (can substitute regular diced tomatoes for a less smoky flavor)
¼ cup fresh basil, julienned
1 tbsp. fresh oregano, chopped
salt and fresh pepper to taste
1. In large sauce pan, heat olive oil. Add onions and cook over medium to low heat until onions are transparent. Add garlic and cook until almost brown and then add tomatoes.
2. Simmer for half-hour over low to medium heat, then add basil and oregano and continue to simmer for 30 minutes longer. With a stick blender, food mill or food processor, puree and salt and pepper to taste. Freeze extra sauce for future.
Ryder's Malted Milkshake and Sweet and S'more Egg Rolls on the next page!