Mickey Rourke, who earned an Oscar nomination for his work in
The Wrestler
, stepped into the ring again on Sunday, this time to fight professional wrestler Chris Jericho at Wrestlemania 25.
After watching Jericho knock out wrestling legends Ric Flair, Roddy Piper and Ricky Steamboat, Rourke, 56 climbed into the ring at the Reliant Stadium in Houston, Texas, to spar with the 38-year-old Jericho.
Rourke, who took a hiatus from acting in 1991 to resume a boxing career, seemed to remember his training inside the ring. It took a single left-handed punch to subdue Jericho, who laid on the mat in stunned silence.
For several weeks, Jericho and Rourke have taunted each other outside the ring. At one point, Rourke even backed out of the match before agreeing to appear. The crowd was clearly entertained, giving Rourke a standing ovation as he exited the ring.
– Steve Helling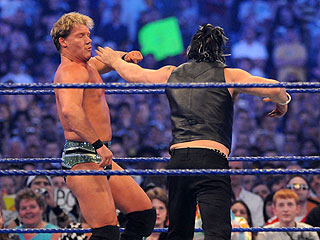 George Napolitano / FilmMagic