They've been photographed on
Paris Hilton
and
Katy Perry
's arms – and have turned heads at some of Hollywood's hippest parties. But who exactly are these Oompa-Loompas? Are they party crashers? Performers? PEOPLE.com investigates, and reveals five things you may not know about the Oompa-Loompas.
They're artists
: The Oompa-Loompas are actually part of a professional touring variety show called
Beacher's Madhouse Costume Ball Tour.
"You come in the door and there's a pink gorilla and there's Oompa-Loompas running around," Martin Soper, 22, who performs as an Oompa-Loompa tells PEOPLE. "[The show] has the atmosphere of a circus and the energy of a nightclub. We do a number of miniature shows on stage – no pun intended. We actually choreograph our work."
Paris Hilton is a pal
: "
Paris
is a good friend of Beacher's and loves the show," Soper says. "And we love her. She is amazing. And she's stunningly beautiful when you meet her in person." (In December 2007, Hilton also stepped in and
rescued
one of Soper's pals, Robin Sherwood, who was injured during some fracas in a club.)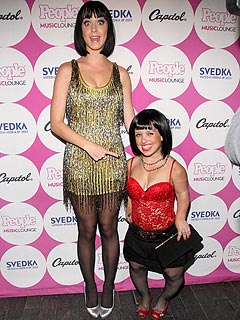 They frequent celebrity parties
: Most recently, Beacher's Oompa-Loompas helped
Katy Perry
celebrate her new music video at a New York bash. But Soper says they're staples on the party scene: "We actually did a birthday party for Kelly Osbourne when she turned 21," he says. "We had 21 little people there because she loves little people."
They do their own makeup
: "It's not the hardest thing to put some orange makeup on," Soper says. "But to get it looking exactly right, it takes a lot of practice."
They wear many hats, wigs and faces
: Jordanna James, 21, dressed as a "mini Katy Perry" at the pop star's bash on Wednesday night. "To get out of your own shoes and be another successful artist is awesome," James tells PEOPLE. She also plays mini-
Britney Spears
. "She has a whole dance routine that goes with that," Soper says, adding, "every one of us gets a big part. I've gotten to be mini K-Fed."
Share your comments here