Where is Danny Hauser?
That's a question many people in Minnesota, and now around the country, are asking after the 13-year-old boy with Hodgkin's lymphoma and his mother, Colleen, who favors alternative medicine, disappeared on the day they were to have appeared before a judge who is weighing whether to compel the family to continue Danny's chemotherapy.
In a case that pits the rights of parents against the interests of the state, mother and son have apparently taken matters into their own hands – and may be on the way to Mexico.
"I have an opinion where they are, but I can't say I know," the boy's father, Anthony Hauser, told reporters Wednesday, one day after Colleen and son Danny failed to attend a court hearing in Brown Co., Minn., near the family dairy farm outside the town of Sleepy Eye.
Private Beliefs
On Tuesday, Danny and Colleen Hauser were spotted in Southern California, believed to be headed toward Mexico for treatment for Danny's cancer in an area just south of San Diego, the Brown County Sheriff's Office said in a news release.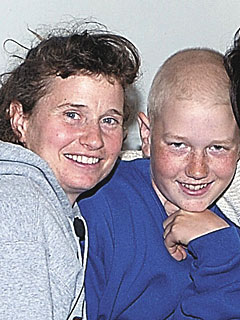 Danny, one of Anthony and Colleen's eight children, went to the doctor with a bout of coughing in mid-January and was eventually diagnosed with Hodgkin's lymphoma – a disease that can, with treatment, lead to a five-year survival rate of between 60 and 95 percent, the
Mayo Clinic
reports.
But the family – Danny and his mother are registered members of the Nemenhah Band, a Native American spiritual organization with the motto "our religion is our medicine" – halted his chemo after the first round.
First Round of Chemo
"I wanted to do alternative medicine ... I just did not like what the chemo did," Colleen Hauser told
Minnesota Public Radio
. Colleen had already lost a sister to non-Hodgkin's lymphoma, and blamed the chemotherapy.
About a week after Danny's first hospital visit, his illness sent him to the emergency room, and his parents agreed to an initial round of chemo. An oncologist later testified that the first treatment shrank Danny's tumor. But Danny didn't return for a second treatment, and the hospital contacted state authorities, which sought a child protection order.
On May 14, Brown County Judge John Rodenberg ruled the danger to Danny overruled his parents' constitutional right to religious freedom, and ordered an immediate X-ray while directing the family to choose an oncologist for a course of action. The results of that X-ray were presented in court Tuesday, and showed the tumor to be growing again – but by then, Danny and his mother were nowhere to be found.
Arrest Warrant
Judge Rodenberg has issued a warrant for Colleen Hauser's arrest.
Anthony Hauser says he and Colleen are willing to treat Danny with a combination of chemo and alternative therapies, but he believes they fled the country after Colleen made a "spur-of-the-moment" decision to leave, informing her husband Monday afternoon that she was going to do so and telling him, "That's all you need to know."
Danny himself was adamant in his own remarks to the court, according to a transcript. "I'd probably die if I took ... chemo," he
told the judge
. If anyone tried to administer the treatments, even if told by his mother to do so, "I'd punch them and kick them," he said.
While supporting their decision to choose their own path for Danny's care, Nemenhah Band founder Phillip Cloudpiler Landis says he was "floored" by Colleen's decision to flee and urged her to return.
"Nothing is served by throwing Danny into that sort of fugitive lifestyle," he tells PEOPLE. "We support them in their belief and what the spirit has told them to do with regard to the cancer, but with regard to disregarding the court order and absconding with the child, that's a capital offense. The only counsel I can give to Colleen is bring Danny home."
On Friday, Anthony Hauser stood with Brown County Sheriff Rich Hoffman and made the same plea. "If you're out there, please bring Danny home so we can decide as a family what Danny's treatment should be."