With six kids under the age of 7,
Brad Pitt
has picked up a thing or two about parenting. From keeping clean to staying healthy and happy, check out how this hands-on pop handles the day-to-day.
Need a Remedy for Diaper Rash?
After Pitt admitted to
Esquire
back in 2006 that his then newborn daughter Shiloh (now 3), suffered from a terrible
case of diaper rash
, PEOPLE's readers came to the rescue, with an overwhelming recommendation for Boudreaux's Butt Paste. No stranger to celebrity support, the remedy has also been used by athletes like Lance Armstrong and Shaquille O'Neal to keep chafing at bay.
Getting Fresh
With this many kids, you're going to have a fair share of spills and spit ups. You also may be just too busy to bathe! After encountering a smelly situation with his
Inglorious Basterds
costar Eli Roth, Pitt shared
his stay fresh secret
: baby wipes. "All you've got to do is just take them, [and do] a couple quick wipes under the pits," he explained to Roth.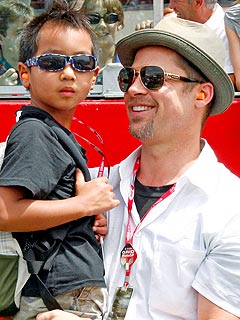 Stefano Rellandini / Reuters / Landov
How To Tame the Mane – Or Not
When it comes to styling his daughter Zahara's dark curls, Pitt also told the October 2006 issue of
Esquire
magazine that he had trouble. But after discovering Carol's Daughter Hair Products, Pitt raved about the results, which gives the 4-year-old a "fantastic luster." Meanwhile, sons Maddox and Pax are allowed creative freedom when it comes to
their hair
– rocking mohawks and wild colors at times.
Back To School
Doing more than just carpooling his kids back and forth to school, Pitt embraces his role as Mr. Mom. He's been known to stay for Shiloh's nursery school classes, even reading to the children. And while the sheer possibility of his presence on school grounds managed to get moms
out of their sweats
and into designer threads, Pitt takes a less high-profile approach and "sits in the back of the classroom a lot."
Avoid the Sugar Rush
During a recent trip to a Carvel ice cream shop near their Long Island, N.Y., home, Pitt and his daughters Shiloh and Zahara were warmly greeted by friendly neighbors who offered them an assortment of cookies. But the dutiful dad politely declined, limiting the kids to one sweet treat, and keeping their sugar levels in check!