It's a series with emotional landmines as potent as tarantula cocktails and crocodile-filled obstacle courses. And on Wednesday, NBC's
I'm a Celebrity … Get Me Out of Here!
ends its three-week run when one star will be crowned the ultimate King, or Queen, of the Jungle.
Challenges notwithstanding, the celebrity survivor will also have to stomach the return of former contestants
Heidi Montag
and Spencer Pratt, who landed in Costa Rica on Tuesday, as well as Janice Dickinson and Daniel Baldwin, who are also set to return to the jungle.
Watching it all go down in fancy high heels has been co-host Myleene Klass, herself a runner-up of Britain's
I'm a Celebrity…
in 2006. "Where else are you going to see celebrities without their makeup, without their support network, without luxuries, just showing us who they really are?" Klass tells PEOPLE.
"They have no PR people, no management helping out, no family saying, 'Don't reveal those secrets!' And they can't tell me, 'Oh, you don't know what we're going through,' " says Klass. "I know
exactly
what they are going through! But I can say, when they go back to the real world and they have conquered their fears, they will be so proud of themselves."
With that, Klass assesses some friendships and quirks that have popped up on the series: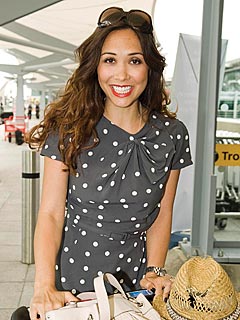 •
Sanjaya Malakar
and
Holly Montag
: "Oh, Sanjolly," Klass says of the unlikely but flirty puppy love coupling between the
American Idol
contestant and Speidi relation. "Who would have seen that one coming? I am watching what everybody else is watching and I've got my jaw on the floor just going, 'What on earth?' There are a lot of reality shows out there and we are all a bit cynical to the process but there are no managers [here], there are no scripts, there are no editors speaking to the production. They are all just getting on out there and left to their own devices so what you see is what is really going on."
•
John Salley
and
Patti Blagojevich
: "You will see on Tuesday night," Klass says, "Patti conquers a fear that I know her daughters got her through. As a mommy, I had a megaphone and I was shouting to her, 'Think of your daughters!' and suddenly, this wonder woman exploded! She channels her mommy powers. And John, whose nickname is 'Spider,' more than conquered his fear when he drank that tarantula cocktail. And when I see him, like, 7-foot-2 sitting next to this tiny little mom with her pigtails, it makes me giggle. They are like the Odd Couple but they are constantly talking and constantly in each other's company and really talking. They've really connected."
•
Lou Diamond Phillips
and
Torrie Wilson
: "Lou Diamond Phillips in an institution," Klass says. "He's so cool. He's kept his composure but of course everybody has his breaking point and his is his family. When he thinks of them, it adds to the emotion of the program. Torrie, this incredibly Amazonian-figured woman who looks like she will break at nothing, really cries when she thinks of family. There's many sides to them."
•
Speidi
: When they began shooting, Klass says, "They did their 12 hours in the jungle and turned around to me and went, 'So what time are we going back to the hotel?' I was like, 'Mate, there is no hotel. This is it. You're looking at it!' So if you have an agenda, or if you've got a strategy, you may last 24 hours but it certainly can't last 22, 23, or 26 days." As for them coming back to the game, Klass says, "I know when you throw Speidi into the mix, it's always going to be a bit of shock. First time they came in, it was all about a hair product. The next time they came back, they were purely evangelical. You never know what you're going to get next! Listen, I'm British and we love our eccentrics so I might be the only person on the planet who likes them. They are so entertaining!"
But lest the competitors think Klass and co-host Damien Fahey have had it easy, Klass says otherwise. "I'm in a hotel room with lizards and bats!" she says, "and beetles and cockroaches. I've got my [almost 22-month-old] daughter [Ava] there and she's wrapped up in mosquito nets and I'm up all night hitting things with my flip-flops!"
I'm a Celebrity … Get Me Out of Here!
concludes Wednesday on NBC.