Heidi Pratt is definitely proud of her figure, flaunting it in string bikinis at the beach and even doing "some nudity," for
September's Playboy cover
. Now,
The Hills
star has plans to share her fitness secrets in The Heidi Workout.
"Staying fit is something I'm really passionate about," Pratt, who changed her last name from Montag after marrying Spencer Pratt, tells PEOPLE. "I work out with a strength-and-conditioning coach 90 minutes a day, five days a week"
Now she's planning to share the specifics of her routine of "full-body, intense resistance exercises" in a new downloadable workout series developed with trainer
Chad Waterbury
.
The series features full-body conditioning exercises executed as rapidly as possible, "so you burn fat faster," says Waterbury, who does both light and heavy weights (think 75-lb. kettlebells!) with Pratt to give her body "a hard look with a feminine shape."
The Heidi Workout will also offer nutritional advice based on guidelines Waterbury gave to the 22-year-old TV star. She avoids all "white" foods like carbs, but fills up instead on lean meats including grass-fed beef – ("Heidi loves steak!" Waterbury says) – and green vegetables, apples and berries. "Heidi has a really healthy appetite," Waterbury adds. "There's no way she is going to deprive herself."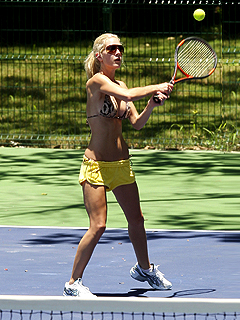 Andy Johnstone / Pacific Coast News
Not that Pratt wanted to lose weight in the first place. Instead, the 5'1", 100-lb. reality star wanted to put on curves. "When she came to me her butt was really flat and she wanted to make it bigger," says Waterbury. "Now, it's nice, shapely and round."
And a major confidence-booster. "She loves showing off her body now," says Waterbury. "She called me from her
Playboy
shoot and was so excited. The photographers were raving about her."