Democracy, you have met your match in Kathy Griffin.
When the 48-year-old comedian and star of Bravo's
My Life on the D-List
found herself an unlikely contestant in a
bikini poll on PEOPLE.com
, she decided that she wasn't going to leave the results up to chance.
"I voted for myself obsessively – I mean many hundreds of times," Griffin tells PEOPLE. "Then I called my mother and had her vote, and then I had the staff drop all other work so they could do nothing but vote for me."
Adds Grffin, who
beat out
Lisa Rinna, 45 and Tara Reid, 33, in the bikini showdown, "I defy you, masters of PEOPLE.com, to have a contest that I am not going to win."
Crediting her new role as a late-blooming sex-symbol to
Paris Hilton
because the heiress convinced her to wear a bikini during the taping of her show, Griffin admits she loves all of the ogling.
"Finally, at 48-years-old I am seen as a stupid shallow sex object," she says. "That's right: there are guys now that are not gay ­– well as far as I know – that want to [sleep with] me, who don't think I am funny, or even smart. They just think I have a hot body and I'm all for that."
Continues Griffin, "I am here to be objectified. I am a piece of meat. There is nothing going on upstairs baby – when it comes to Kathy Griffin, it is all about the T & A."
Betty White, You're Next
Like any true champion, Griffin is looking forward to putting her undefeated streak on the line. "What contests do you guys have coming up? Have you guys considered hottest muumuu? I will kick Betty White, Mrs. Roper and Grandma Lohan's collective butt. It will be brutal."
And if her mother is too busy to vote that day, no worries: Griffin has a secret weapon. "I'll call [her friend and Apple co-founder] Steve Wozniak and make him hack into your server. I can't lose."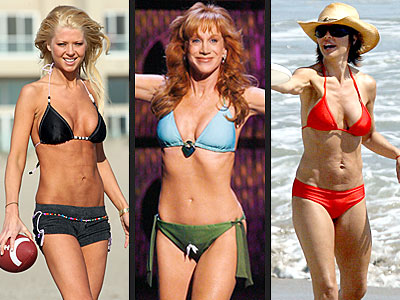 JS Mitchell / BuzzFoto; Reuters / Landov; INF