As the man in the middle of a
love triangle
that caused his fellow astronaut Lisa Nowak to drive 900 miles to confront a romantic rival in 2007, Bill Oefelein has been on the run from media interest in the case. But he couldn't outrun love.
Last week, Oefelein and Colleen Shipman, the third player in the romance that captured
national attention
, alerted their hometown papers in Alaska and Pennsylvania that they are engaged and plan to wed next summer.
The two share an Anchorage address, public records show, and earlier this year teamed to create a
Web site
to market themselves as speakers, photographers and writers of "both fiction and true-life stories" with an adventurous bent – a theme that carried over with their move toward matrimony.
"On June 20, 2009, the couple embarked on a 110-mile canoe trip on Beaver Creek in Interior Alaska," states
their
. "That night, Billy O. retrieved a ring he had hidden in the fishing box and proposed to his love on bended knee."
The Scandal
Authorities allege that a disguised Nowak – with possessions including a steel mallet, a 4-inch knife and a BB gun – trailed and then confronted Shipman in an Orlando airport parking lot early on Feb. 5, 2007, after driving from Houston to meet Shipman as she returned home from visiting Oefelein in Texas.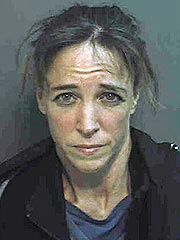 Nowak
remains charged
with attempted kidnapping, attempted burglary with assault, and misdemeanor battery in the case. In May her attorney filed court papers dropping her option for an insanity defense; he earlier alleged misconduct by prosecutors for withholding evidence that appears to contradict statements Shipman made to investigators.
"The police made a mountain out of a molehill in this case and now we have learned there was never a molehill to start with," said attorney Don Lykkebak.
A trial is set to begin Dec. 7. "She's definitely looking for this to finally be concluded," says Nowak's spokesperson Marti Mackenzie.
Former Astronauts
Nowak and Oefelein, who trained together but flew separate missions on the space shuttle Discovery in 2006, both were fired from NASA's astronaut corps after the incident. The mother of three, who was separated at the time, has since divorced her husband, Richard, and is currently a flight-training instructor at Naval Air Station Corpus Christi, about an hour from her Houston home.
Oefelein retired from the U.S. Navy as a commander last October and returned to live in Alaska, his base as a non-military test pilot instructor; Shipman, a former Air Force captain, also has left active military duty.
Both have maintained a public silence on the case. In his only published comments since Nowak's arrest – given to promote the March 1 "Running of the Reindeer" event in Anchorage – Oefelein told the
Anchorage Daily News
he enjoys going mostly unrecognized and making the local rounds after months in the spotlight in a case he wouldn't discuss.