He spent three nights in a Nigerian prison, countless hours on the back of Mick Jagger's motorbike and a few tense moments with a half-kilo of cocaine strapped to his body while a customs officer eyed him at an Irish airport.
Even for the free-wheeling 1960s, that's enough adventure to last at least a few lifetimes. Jake Weber accomplished all of it before he was 12.
Weber, 46, who for the past five seasons has played the very picture of familial stability as down-to-earth dad Joe Dubois on
Medium
(premiering Sept. 25 on CBS), had a rock 'n' roll childhood that was anything but stable. As children of Tommy and Susan "Puss" Weber, parents who were at the epicenter of London's counter-cultural revolution, Weber and his younger brother Charley lead nomadic lives filled with rock music, fast cars, and very little schooling – at least of a traditional sort.
"Some people can juggle soccer balls. Me? I can roll a killer joint in about 3 seconds flat," Weber jokes. "When I was [4], basically the reason for my existence was to roll the joints."
Mother's Death
It was a life that was by turns thrilling, chaotic and ultimately tragic. When Weber was 8 and living at the Villa Nellcôte, Rolling Stones guitarist Keith Richard's sprawling hippie hideout in the South of France, he got the devastating news that his mother, whom he had seen grow increasingly paranoid and disconnected with reality during a multi-continent spiritual quest, had died of a drug overdose.
"That was a seminal moment, and it changed my brother and me forever," says Weber, who years later learned that his mother, diagnosed with depression and LSD-induced schizophrenia, had in fact committed suicide. "It was one of those things you dread, and when it happened finally, your worst fear is realized. Now on our own with our father, an extremely dangerous man, and without her we were screwed."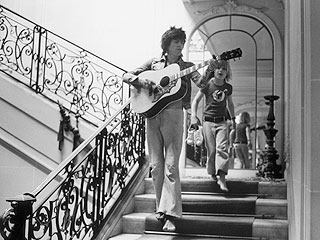 Tommy Weber was what his son calls "a force of nature" – a professional race car driver who also made rock documentaries, dealt drugs and was almost always in trouble with authorities, including the incident in Nigeria where he and his boys were held in prison on visa issues. Tommy struggled with addiction up until his death in 2006.
Drug Smuggling
"Tommy was a party and everywhere he was, was a good time," says author Robert Greenfield, whose recent book
A Day in the Life
chronicles the harrowing lives of Weber's parent. "He was a difficult character because of what he did to himself and did to his kids, but he also loved them. That said, you are going to have a lot of trouble selling a guy who straps cocaine to his boys as a good father."
Jake tries to be sanguine about that drug smuggling incident when he was 8. He, his father and brother safely made it past Irish customs on their way to the Villa Nellcôte, where the drugs were intended as gift. "We weren't invited there as mules," he says. "The fact that my dad brought a kilo just made him seem polite."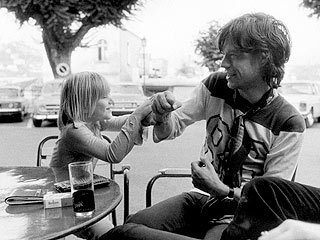 All of the chaos in his youth has made him crave stability as an adult. Weber lives in LA with his longtime partner, actress and handbag designer Liz Carey, and their son Waylon, 3. They plan to marry soon and have more kids. "I'm here and I'm doing it," he says of living the family life. "I am working through some of the agro from bad examples that I have seen. It is something I have struggled with, but I'm getting there."
For more incredible stories and pictures from Jake Weber's childhood, check out this week's PEOPLE magazine on newsstands now