The ink's barely dry on the
divorce filing
between Sean Penn and
soon-to-be ex
Robin Wright Penn, but the actor didn't waste time getting back on his feet with new girlfriend Jessica White in New York City.
On Friday night, Penn, 49, and White, 25, had dinner at Hotel Griffou (both ordered the chicken and drank vodka) before heading to the Mercer Hotel.
"They were holding hands. They seemed really into each other," a source says. "She was laying on him. She was laying on his shoulder. They were lounging around. He seemed really into her."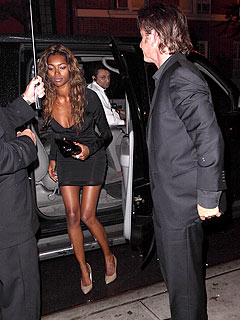 The next night, Penn and his
Sports Illustrated
swimsuit model companion, who met at a birthday party at
Kid Rock
's house last month, arrived hand-in-hand at Abe & Arthur's in the Meatpacking District for model Noemie Lenoir's birthday party.
"They are together all the time," a source says. "They are pretty serious together. She wants to get serious with him and it seems like he is really into her too."