It's a bizarre surgery and not for the squeamish: A tooth pulled from the mouth is fitted to hold an optical lens and implanted in the eye, leaving a bulging eyeball that can't blink. But for blind grandmother Sharron "Kay" Thornton, the procedure was nothing short of a miracle.
"I got to see all my grandbabies," Thornton tells PEOPLE after returning home from the hospital and taking in the sight of her three children and nine grandchildren. "They were beautiful and my children – they have not changed one bit."
Seven of those grandchildren had been born after Thornton went blind in 2000 and it was 6-year-old Castyn who surprised Thornton the most as the whole clan waited on the porch of her Smithdale, Miss., farmhouse Friday to welcome her home from Miami, where her surgery was performed.
Rare Medical Condition
"Castyn is nothing like I thought she would be. I pictured her with red hair, a round face, button nose and freckles," says Thornton with a laugh. "I was so surprised that her face is longer and her hair, darker. She told me, 'No big deal, Meme!'"
The Friday family reunion, over a big Crockpot of homemade taco soup, marked the end of an odyssey to reverse the blindness Thornton has suffered since 2000, when a rare skin condition left her cornea so scarred and dry that doctors couldn't treat her with a simple cornea transplant or more conventional artificial cornea.
"Her eye was like a desert," Dr. Victor L. Perez, Thornton's surgeon at the Bascom Palmer Eye Institute at the University of Miami. By using the tooth (fittingly, Perez chose Thornton's canine, or "eyetooth") to hold the lens and sealing it all inside the eyeball with a mucous layer taken from the lining of Thornton's mouth, "we turned the desert into a wet garden and the whole thing becomes an integrated unit surrounded by living tissue," Perez explained.
More Surgery
As a next step, Thornton will return to the University of Miami's Miller School of Medicine at the end of the month to have a tubular guard removed and to be outfitted, Perez said, with a protective shell painted with a colored iris to look "like a normal eye." She'll have to keep everything clean with drops of artificial tears, the doctor said.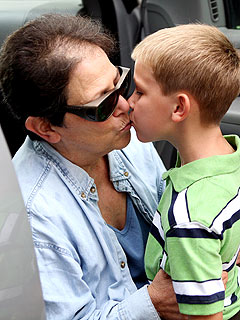 Thornton's was the first surgery of its kind in the United States. The procedure, called modified osteo-odonto-keratoprosthesis (or MOOKP), was developed in Italy and has been performed successfully on some 1,000 patients overseas, Perez said.
"Here in the United States, we tend to be more conservative and we'd been waiting to see more data." But now, he says, he already has three more patients lined up for the surgery, which, he cautions, is only for patients with severe damage to the front part of the eye. The procedure cannot help glaucoma, age-related macular degeneration, retinal detachment or other retinal problems.
A Whole New World
Thornton calls the procedure nothing short of a miracle, even though the doctored eyeball can be hard for others to look at – the lens protrudes from her eye – and makes it impossible for her to close the eye. To sleep, she tapes on a patch. "It doesn't bother me what I look like," Thornton says, "I can see!"
Her new favorite sight: all the TV shows she used to just listen to. Her first night out of the hospital, she stayed up for hours in her hotel room, marveling at how Duane Chapman of
Dog the Bounty Hunter
was not at all the clean-cut Marine type she'd envisioned: "His hair is so long! For all these years, I had it in my mind how people looked and when I see everybody now, I just go, You're joking!"
Back in her own bed, Thornton had a welcome-home slumber party, of sorts, with 14-year-old granddaughter Kaila. They watched "Meme's" story on the local Channel 3 news, then surrendered to the exhaustion of all the excitement. "I told Kaila, 'I love you, but goodnight.' She turned over one way, I turned over the other way," Thornton said with a chuckle, "and I don't think either one of us moved till morning."