She brings laughs each week on ABC's new sitcom
Modern Family
– but Sofia Vergara never intended to be a comic actress. She actually went to dental school.
Calling from Los Angeles, Vergara, 37, opened up about how she got acquainted with her onscreen husband Ed O'Neill, her near career as a dentist and her own real life family.
Here are five fun facts about the
Modern Family
scene stealer:
1. That accent is real!
Sure, it may seem specific to her character Gloria's outsized personality but Vergara says her accent is the real deal. "I go out to a mall or restaurant and when somebody hears me they'll go, 'Oh my God, it's your real accent,'" she says. "I tell them, 'Yeah, I guess I'm not that good an actress!'" Still, she admits, her comedic instincts may, at times, cause her to emphasize certain pronunciations. "I do make the accent a little stronger," she says. "I understand English; I read and write English perfectly, but the accent won't go away."
2. She was a teenage mom.
On
Modern Family
, Vergara's character has a young son named Manny – and in real life, the actress has a 18-year-old son named Manolo, who's a senior in high school. "I always tried to do the best for my kid," Vergara says. "I was 19 when I had him!" As a young mother, the actress says she's "never been alone," so she's not exactly thrilled that her son will be headed off to college next year. "I joke that I want him to fail this year so he can stay home another year," she says. "He looks at me like, 'You're a freak.' "
3. She was almost a dentist.
She's been an actress, model, television host and, yes, Vergara almost took up dentistry in Colombia. "I had to do two more semesters [of school], she says, adding that she quit dental school to become a TV host. Still, her dental hygiene remains impeccable. "I'm obsessed," she says. "My son thinks I'm crazy because I make him do a cleaning every three months. I try to bribe the dentist to make him to do it sooner!"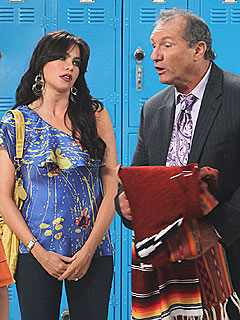 4. She watched Ed Bundy in Spanish!
On
Modern Family
, Vergara is married to Jay, played by Ed O'Neill – and he was quite the familiar face. "I used to watch
Married with Children
in Colombia, dubbed in Spanish," she says. "[Ed's] fantastic! Sometimes he knows even more than the director when the scene is perfect. Ed knows a lot about TV. I didn't have much TV acting experience so I'm learning a lot."
5. She's friends with Shakira.
Born in the same town, Barranquilla, Colombia, as
Shakira
, Vergara says her pal would be a dream guest star on
Modern Family
– playing her sister. "I would love for her to do a little acting," she says. Who else would she like to guest star? Says Vergara: "I told them, 'Please can we get Sophia Loren as my mother?'" I would love to meet her; I just think she's fantastic."