There are plenty of reality-TV stars with a long line of people who want to pummel them senseless, but how many celebrities would actually give someone the chance to take a swing?
Kim Kardashian
would.
"This boxing match was crazy! Lots of action. I got banged up a bit but it was all for a good cause," she tells PEOPLE.
On Tuesday, the gluteally gifted socialite,
who recently turned 29
, donned boxing gloves and stepped into the ring to engage in fisticuffs with a female, um, fan – all for charity, of course. But her all-pink outfit did little to distract her opponent, and Kim went down in a flurry of blows.
Her opponent had won the right as part of an auction for charity, The Dream Foundation, that took place at the Commerce Casino in Commerce, Calif. But despite the philanthropic goal, Kardashian admitted beforehand that she was a bit anxious about her upcoming brawl.
"About to start boxing! In my physical! I'm sooo scared!!!!" she Tweeted.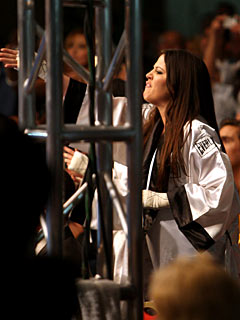 Deano / Splash News Online
Other members of the family who took a hit for a good cause included Kim's little brother Rob and stepdad Bruce Jenner. Mom Kris, sisters Khloe and Kourtney, and Kourtney's boyfriend Scott Disick were also on hand – but to cheer their loved ones on, not rumble in the ring.
PeopleTV Archive: Kim Kardashian Reveals Her Bikini Body