Forget the supernatural: In
Kristen Stewart
's next project, the
New Moon
star is taking a deeply human turn, playing a troubled teenager in the indie flick
The Yellow Handkerchief
, due in theaters in February.
Costarring William Hurt, Mario Bello and Eddie Redmayne, the movie explores the relationships between three strangers who embark on a road trip through post-Katrina Louisiana. Stewart plays Martine, a teen who hopes to escape her family, while Hurt plays Brett Hanson, a man who has to choose between his ex-wife (played by Bello) or what's next.
"The part of Kristen in
Twilight
is completely different from the one she plays in
The Yellow Handkerchief
, which is particularly interesting for Kristen's fans all over the world," says the film's Oscar winning producer Arthur Cohn. "In my personal opinion, from a pure acting point of view,
The Yellow Handkerchief
was a more difficult part to play."
Cohn says that Stewart got the part thanks to the recommendation of one famous former costar.
"It was Jodie Foster, whom I respect and admire, who wholeheartedly recommended Kristen," he says of her
Panic Room
costar, "and has always considered her a truly excellent young actress."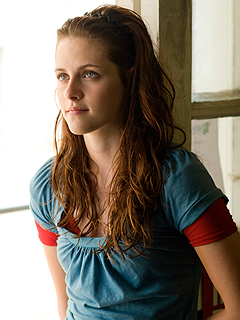 IDP / Samuel Goldwyn Films