Never mind Tiger Woods's
wreck of a public image
– it's his ride that needs tending to.
Even though last week's
one-car collision
with a fire hydrant and a tree took place at under 33 m.p.h., the mess the pro golfer, 33, made of his black Cadillac SUV was worse than his performance at the Deutsche Bank Championship in 2004. He mangled the front right side of his car, and, more interestingly, both rear windows of the vehicle were shattered.
Woods has said that his wife, Elin Nordegren,
shattered the back window
to help free the golfer from the car, but
speculation has swirled about those claims
. Let's just hope Tiger has arranged a car pool for his next trip to the links.
–
Michael Y. Park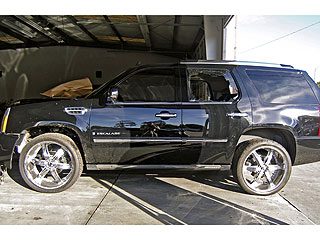 Florida Highway Patrol / AP