He may be only 2-weeks-old, but Gavin Joshua Mannox is already a fantastic flyer, says new dad Vern Yip.
"Gavin was a dream on the airplane," the
Design Star
judge tells PEOPLE of his son, who was
born via surrogate
to Yip and his partner on Jan. 6. "This kid was born to travel ... which is lucky for his two peripatetic parents. We're already planning our first trip with him to Asia!"
The designer says his interest in Asian culture inspired the decor in Gavin's nursery.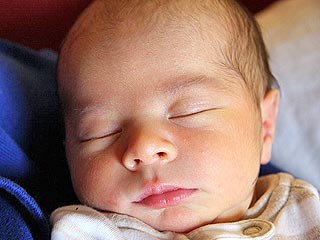 "The image you see in the picture is a painting I commissioned for the nursery," explains Yip. "It's based on a story that a monk in Bhutan told us during our journey there and features all four of our dogs."
"The nursery is unlike any other nursery I've ever seen before and very reflective of us," he adds. "Lots of things brought back from trips to the most remote corners of the world. We really want our son to grow up aware of different cultures."
•
Reporting by ANNE MARIE CRUZ