Ke$ha's first hit single "TiK ToK" soared up the charts to become the No. 1 pop song – and now People.com has a first look a the singer's new video for "Blah Blah Blah."
The video, shot last week in Los Angeles, tells the story of the singer going on dates with guys who keep talking and talking – "blah blah blahing" – so she finds ways to shut them up.
The song and the video both feature an appearance by the members of 3OH!3, but they don't play Ke$ha's love interests. "The guys in the band 3OH!3, [are] like legitimate friends, and they're really, really nice guys," says Ke$ha.
As for her real love life, the singer is single and looking. "It really takes a strong guy to have a successful girlfriend who's as mouthy as I am, she
told PEOPLE
last month. "I've yet to find someone who can handle the sass. I just want somebody who's really cool – a really cool musician with a big beard."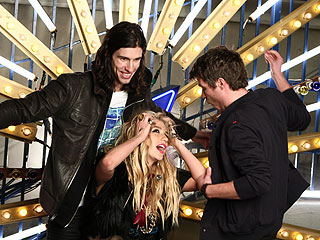 Adrian Sidney / PictureGroup