Her last video (for the song "Blah Blah Blah") starred her friends from 3OH!3, but this time around, pop star Ke$ha did a solo trek to the desert in California.
"I'm super into being an animal," Ke$ha told PEOPLE before donning a tiger head for the "Your Love is My Drug" video, in which she reportedly goes on "a fun adventure through an animated world."
And if the nude-colored bathing suit she wears isn't sexy enough,
MTV reports
that there's a campfire kissing scene with an unidentified man
and
a scene of Ke$ha performing in just body paint. Rrrrowrr!
– Lesley Messer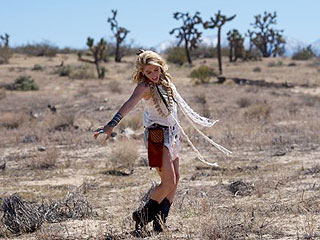 Kristian Dowling / PictureGroup