By the time he was 4,
Gary Coleman
had developed a wit and precociousness that charmed his parents Sue and W.G. "Willie" Coleman. Tragically by his 20s, he was no longer speaking to them.
"Before he was in kindergarten, Gary had an imaginary friend, who he called Kumas," Sue, 67, tells PEOPLE. "If Gary did something bad, I'd say 'Gary, why'd you do that?' and he'd say 'I didn't do it mom, Kumas did it!'"
It was Gary's contagious personality that got him plucked from the Midwest and set down in Hollywood – a move his parents have never regretted, despite their son's longtime struggle with fame.
"He had a God-given talent," Sue explains. "Getting into show business was his decision. We always told him, 'It's up to you, Gary.' We never forced him to do anything. We protected him as best we could."
They saw their son's primetime success as a way to overcome the limitations of his ill health: The first of two kidney failures occurred when he was 5, and doctors warned early on that he may not have a long lifespan.
"We were happy for him, we were so proud," Sue says. "We always worried how he could be self-sufficient in life because of his condition. People said he was forced to work while sick, but you have to understand, Gary was never in perfect health. We were the first to take him home if he didn't feel well."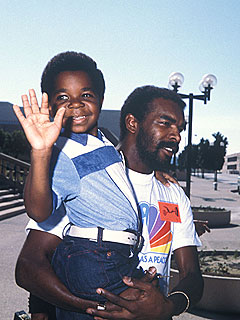 Bill Holz / Shooting Star
Cut Off From Family
After
Diff'rent Strokes
went off the air in 1986, and his career nosedived, Gary, around age 18, began to cut ties with his parents and inner circle, believing he'd been taken advantage of financially. In fact, he gradually cut off all communication with his mom and dad shortly after his infamous lawsuit against his business manager and parents was settled in 1993.
"We never stole from our son," Sue says, "We always had his best interests at heart. After we stopped hearing from him, we reached out to him anyway we could. Over the years, we sent him birthday and Christmas wishes through his agents and managers because we often had no phone number, no address to reach him. But we always hoped someday he'd come around."
Although Gary's later life became tabloid and reality show fodder, any chance to see their son on TV was a comfort. "The first thing we'd do is see how he looked," Sue says. "Did he look okay? Was he taking care of himself? When we found out he was married, we thought, 'Okay, we have a daughter-in-law now.' We wanted him to come home so we could meet her, and congratulate them and let them know how proud we were."
"We want him to be remembered as the talented young man he was," Sue adds. "We never stopped being proud of Gary."