She may be Justin Bieber's peer – at least in age – but 16-year-old Nikki Yanofsky is already a veteran jazz singer. At 12, the Montreal-native was hooked on the sophisticated genre (though she sings pop every once in a while) and, in February, she took the world stage, performing "O Canada," the Canadian national anthem, at the Vancouver Olympics.
She's just released her self-titled, debut album – and already performed alongside Celine Dion, collaborated with will.i.am
and
appeared on the
High School Musical 2
soundtrack. Here are five
more
things to know about the up-and-coming star.
1. She travels the world – but still goes to class
Yanofsky may have regularly scheduled gigs at international concert venues (like the Kennedy Center), but she doesn't have a private tutor. She still attends her small Montreal high school. "They give me the work before I leave, and then I go on the road with it," she tells PEOPLE. "I actually get my best work done on the plane."
2. She's a (not-so) secret rap and country fan
Jazz may be her preferred genre, but Yanofsky says she loves all music – even rap. But the singer especially loves country music. "It's kind of like comfort [music] for me because I grew up on the Eagles," she says. She also counts Rascal Flatts among her favorite bands.
3. She's bilingual … basically
While recording "Gotta Go My Own Way" for the
High School Musical 2
soundtrack, Yanofsky says her language skills were put to the test. "For the French part, I had to have a coach there. I speak French but I wasn't used to actually singing it."
4. Are You Listening, Paul McCartney?
Calling Ella Fitzgerald an inspiration, and Wyclef Jean a favorite collaborator, Yanofsky has some major ideas about who she'd like to sing with in the future. "I always say dream big," she says, "but I have a bunch of people [in mind] and they're icons like Paul McCartney, Stevie Wonder or Paul Simon."
5. She's sung for billions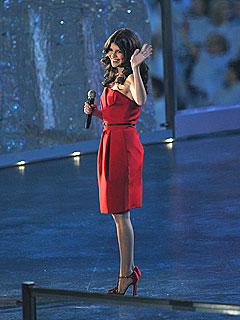 Evan a major gig – singing at the 2010 Vancouver Olympics – couldn't rattle the singer's confidence. "I was really proud to be up there," she recalls. "The second before I went on stage, I turned to the guy working back there and I'm like, 'Oh my gosh, in five seconds 3.2 billion people will have me on their TV screens. That's crazy.' All I was thinking about was 'please don't fall.' "